Skip to Content
Find Your Dream Dress at Bridal Elegance and Formalwear
Whether you're looking for something trendy or traditional, you're sure to find what you're looking for at Bridal Elegance and Formalwear. Our styles are beautiful and timeless. Our selection comes in all different lengths, styles, and shades. We're sure to have something you'll love! We also offer a wide range of sizes to be body inclusive and body positive. No two persons are the same, inside or out, and we heartily recognize that. We want your gown or dress to be something that makes you feel beautiful on your special day.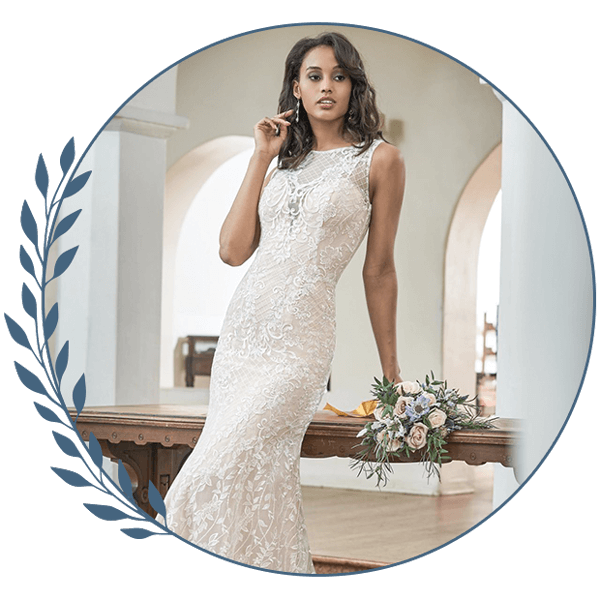 We'll Help You Find a Dress You Love
When you buy from Bridal Elegance and Formalwear, we see it as an immense privilege that you choose us as the boutique where you would select one of the most important dresses you'll ever wear. We hope your dress will not only celebrate you as a bride but also gratify the wedding planning experience – from beginning to end. We encourage our brides to take their time and find something they'll love. We have beautiful gowns for every bride from sizes 2 – 34W. Our boutique carries a vast selection of designers so that every bride can have options. The designers that we carry are:
Enjoy a Stress-Free Experience at Bridal Elegance and Formalwear
At Bridal Elegance and Formalwear, we strive to create a stress-free environment for our beloved customers, so that their dress shopping experience can be memorable and effortless in the best of ways. The memories of you, your mom, and your siblings or best friends, helping you pick out your dream dress are sure to last a lifetime. We'd love for you to make those memories at Bridal Elegance and Formalwear. To learn more about the bridal gowns and wedding dresses we offer, call or visit us today. One of our professional formalwear consultants will be happy to assist.
Featured Wedding Gown Designers:
Find the Perfect Dress at Bridal Elegance and Formalwear