Skip to Content
Find the Perfect Tuxedo for Your Wedding Day
They say all eyes are on the bride at a wedding. But the bride's eyes are only on her groom. We want to dress you in the perfect tuxedo for your wedding day. Whether you are going for a casual look or dressing for a black-tie affair, Bridal Elegance has a wide array of options for you to choose. Our talented team of professional formalwear consultants will help you find a tuxedo that makes you look and feel your best. The featured designer that we offer are DuBois and Jim's Formalwear.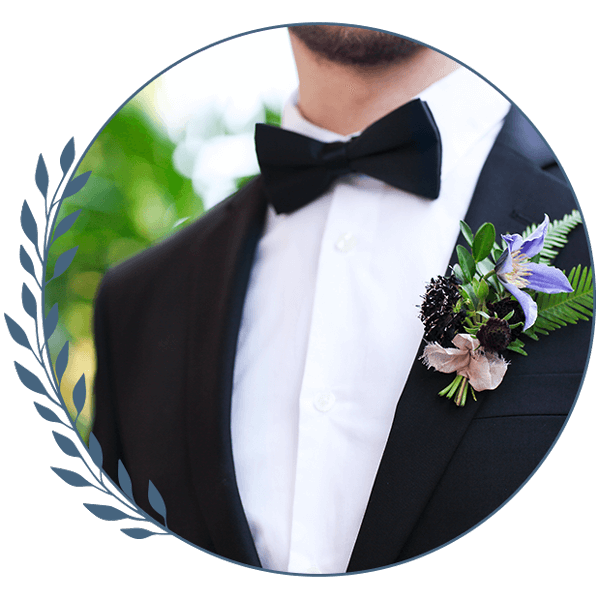 What to Consider When Choosing Your Tuxedo
Whether comfort or fashion is your priority when it comes to your wedding day, Bridal Elegance and Formalwear has the perfect tuxedo for you. To ensure tuxedo hunting is as easy as possible, we've determined a list of things one should consider while shopping for their special day.
The style or theme of your wedding
To purchase or to rent
Find a sample picture to reference
Consider what the groomsmen will be wearing
Never be afraid of a little bit of color
Consider the accessories you will be wearing
Formal, Traditional, & Timeless
We sell tuxedos that are formal, traditional, and timeless. If your wedding is formal and you want to feel fancy – as you should on your special day! – then a tuxedo is the right choice for you. We are more than happy to customize your tuxedo for you. There are several ways to spice them up, including dress shirts, vests, cummerbunds, suspenders, belts, pocket squares, cufflinks, ties, socks, and more. Ultimately, the tuxedo you'll choose for your wedding day must be comfortable while reflecting your personal style. The professionals at Bridal Elegance and Formalwear can help you find that very tuxedo. Call or visit us today to get started!
Find the Perfect Dress at Bridal Elegance and Formalwear