Skip to Content
Complete Your Wedding-Day Look With the Right Shoes and Accessories
No wedding-day look is complete without the right shoes and accessories. Shoes must complete the look and partner with your chosen dress seamlessly. Additionally, your shoes should showcase some personality. Whether the wedding dress you've selected is long or short, choosing the right shoes is crucial. For one, no one wants to fall on their wedding day. And secondly, no one wants their feet to hurt either. With so much else for you to be focusing on when it comes to your special day, don't let shoes be one of them. The professionals at Bridal Elegance and Formalwear can help you find the perfect pair of shoes for your special day.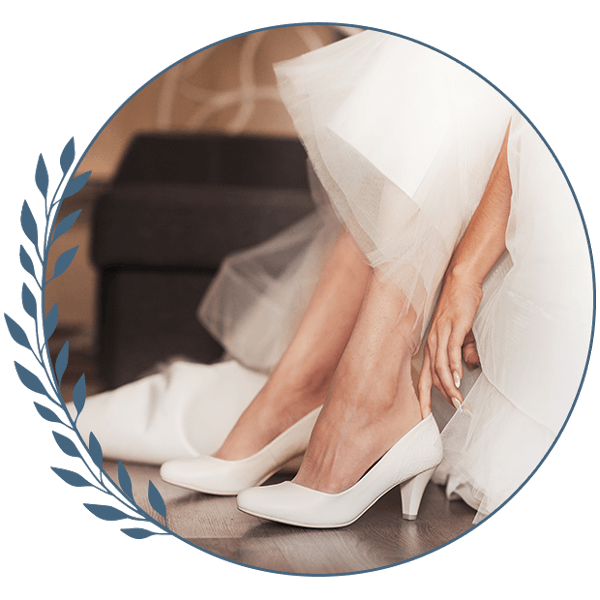 What to Consider When Choosing the Perfect Shoes
Whether comfort or fashion is your number one priority when it comes to your wedding-day shoes, Bridal Elegance and Formalwear has you – and your feet – covered. To make the shoe-finding quest as easy as possible, we've determined a list of steps one should follow when searching for the perfect shoe for their special day.
Find your dress first
Research bridal shoes
Try on multiple styles and sizes before committing
Never be afraid of a little bit of color
Prioritize comfort above all else
Don't wait until the last minute to purchase!
Chose From an Attractive Assortment of Jewelry & Accessories
We have it all – from glitter, glitz, and glam to tiaras, veils, and jewelry! Each of our available accessories helps to complete your look for your special occasion. The good thing about accessories is that you can add as many or as few as you'd like. After all, it's your special day. From simple drop earrings and a traditional veil to big hoop earrings and a sparkly tiara, you'll quickly find that Bridal Elegance and Formalwear offers a little bit of everything for the bride-to-be. At our boutique, you'll never feel limited on your selection, and your options will seem endless!
Find the Perfect Dress at Bridal Elegance and Formalwear