Skip to Content
From Girlhood to Womanhood – You've Made It!
A quinceañera is the celebration of a girl's 15th birthday, marking her passage from girlhood to womanhood. This special occasion is both a religious and social event that emphasizes the importance of family and society. For a once-in-a-lifetime event such as a quinceañera, there's only one place to pick out your dress, and that's Bridal Elegance and Formalwear. Celebrate this special birthday in the most lavish manner – with a dress you'll love and remember for the years to come.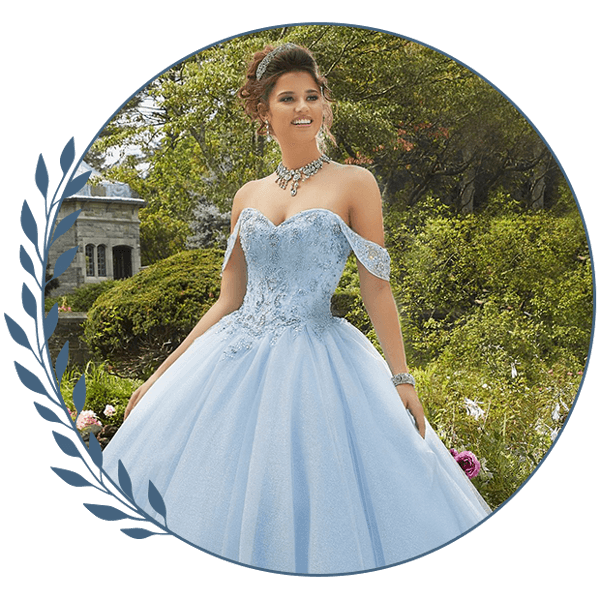 Choose the Color of Your Full-Length Ball Gown
When it comes to choosing your full-length ball gown for this special event, the choice of color is everything. We want to ensure that you're the center of attention on your special day and that your dress is as beautiful as you are. Bridal Elegance and Formalwear sells quinceañera dresses in a variety of styles and colors. While eye-catching and jaw-dropping are definitely adjectives we want to attribute to your quinceañera dress, we also want it to be comfortable, so that you'll feel confident dancing in it.
Make Your Quinceañera Unforgettable
As your biggest birthday bash to date, you'll want to look amazing at your 15th birthday party! Visit Bridal Elegance and Formalwear today and sift through our exceptional quinceañera dress collection. We have every color of the rainbow and dresses with stunning details like tulle and beading. Create memories with your family and friends on this special day that will last a lifetime. Our dresses are perfect for dancing and considerate of tight budgets. Call or visit us today to learn more about our jaw-dropping collection of quinceañera dresses!
Find the Perfect Dress at Bridal Elegance and Formalwear